Ordered a parcel? The autonomous delivery robot (developed in Oisterwijk) is coming
27 September 2019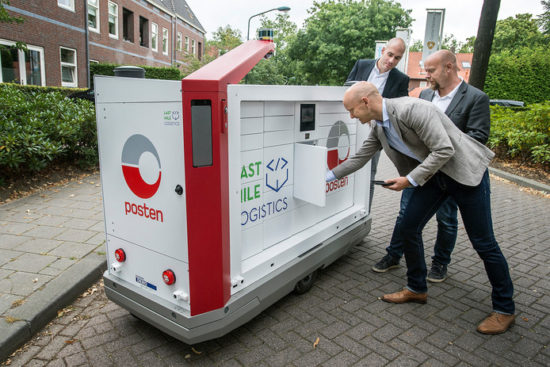 Big boys from the parcel delivery ring this week in Oisterwijk. Because if there is a promising development, it's better to be early. Last Mile Logistics thinks it has: an autonomously moving parcel machine on wheels.
DHL, UPS, PostNL and the Belgian counterpart Bpost. Among other things they want to see him move through the Schijfstraat in Oisterwijk: the autonomous parcel delivery robot. And the company that has a scoop in it in the Netherlands, Last Mile Logistics, is happy to show it. "We have the technology and the knowledge, we are ready to go out into the world," says commercial director Thijs Boots.
The parcel transport is moving enormously. We all order ourselves drowsy, one delivery van after another drives into the street. And then the deliverers often also have several closed doors. How can it be more efficient? Delivery companies and web stores are keen on the answer to that question. Drones who drop parcels ? Delivery in the trunk of the car? Parcel machines?
Read the full article on BD.nl
Back