Products
OUR PRODUCTS FOR THE LAST MILE
Well thought-out technology results in reliable processes. Flexible. Service-oriented. This is our constant aim with all our products for the last mile. We offer you solutions for every environment and ensure that every delivery or shipment is equally successful. Wherever delivery and receipt come together, that's where you'll find us. Exactly as you require, with a range of products that perfectly suit your specific demands.
VERSATILE SOFTWARE
In the parcel machine
Our software makes parcel machines smart. The recipient knows straight away what s/he needs to do to collect his or her parcel. And the courier knows straight away how to leave a parcel, and in which locker.
Via the cloud
Which lockers are full? Which are empty? Are any doors open? You can see all of this on your device thanks to our cloud software, and then take action immediately using the same online environment. A remote control panel that works easily via the cloud.
Is a parcel ready and waiting to be collected from a locker? The recipient can be notified immediately by app or SMS message.
The dimensions of a parcel are automatically entered in a sorting centre, and these dimensions are then sent to our systems by an API link. Our software then reserves a locker that is the right size, so the courier never has to deal with unpleasant surprises.
In a dedicated environment such as an apartment complex, only residents can send and receive parcels. How does a manager deal with this? It's very simple: with accreditations in our software.
Where is a parcel? Who collected it? Who sent it? Your question is answered immediately, thanks to a 100% transparent dashboard in our online environment.
Using the app
A clear report on a parcel in the machine. Quickly opening a locker using location control. A parcel sent in just a few steps. All of this is quick and easy using the app: ours or yours, it makes no difference thanks to a reliable API link. Or do you prefer to work with SMS instead of an app? Not a problem – our technology is flexible enough to facilitate this.
POWERFUL ELECTRONICS
You might not think so looking at the outside, but a whole lot of technology is brought together inside a parcel machine. Tech to control locks and touch screens. To read barcode scanners and break-in sensors. To operate lighting and communicate with the servers. All of these electronic systems go together to make the smartest possible machine: this too is Last Mile Logistics.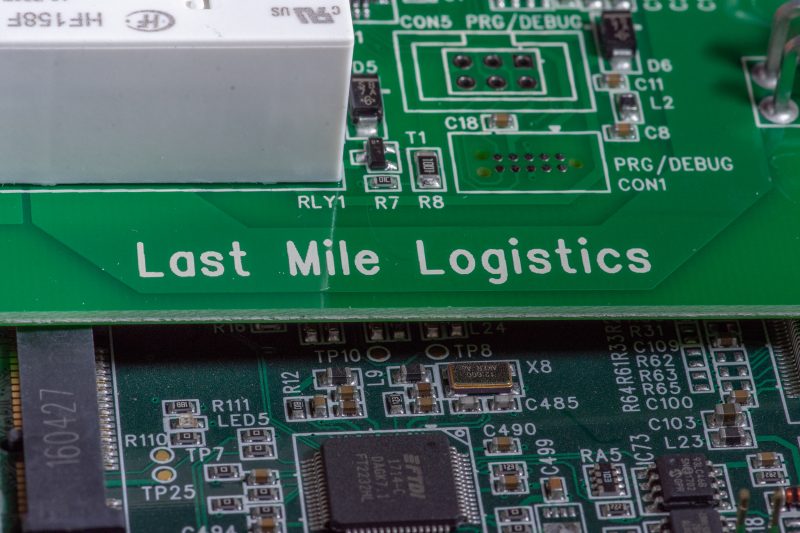 THE HARDWARE YOU WANT
A parcel machine is a tailor-made solution. True, locks are a must – but after that, it's all up to you. You may prefer a different material instead of a steel casing. You may want to fit your machine with a scanner. Or a camera. Sensors. We will have your machine made exactly to your specifications. And, of course, provide you with good advice from the word go.
Last Mile Logistics products offer tailor-made solutions.
Want to know how this can work for you?